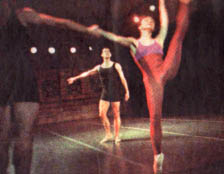 WAKING DANCE
with Donald Acevedo


Using choreography as a medium for healing, dance has been used throughout history as a Spiritual method of establishing social and individual Consciousness as well as a tool to heal the sick, inspire the weak and celebrate life's achievements. Combining virtually all forms of art, dance provides a multifaceted and multi-dimensional perspective on healing and medicine. Waking Dreams & Warrior Women uses dance, both live performance and recorded works, to educate, inspire and establish a greater sense of appreciation of the healing power and nature of the human spirit.



Led by Donald Acevedo, the Waking Dance project encourages women with a history of breast cancer, their families, physicians, and all other health care providers, to use their creative talents to aid their own healing and to share that healing experience with the world. Each participant will choreograph her/his own Waking Dance, bringing into play many individual art forms such as music, photography, poetry, sculpture, costume design, and lighting design. Mr. Acevedo works closely with an individual or group, facilitating the expression of personal healing through dance, movement, story and other forms of art.

There is a sacred and fertile space in the dance which exists between patients and their caregivers whether they are physicians, nurses, physical therapists, family or friends. It is within this space that a connection of great importance occurs. The collaboration carries each individual willing to enter the creative process to move through fear into self-reflection, self-acceptance and healing.

Live performances available for Conferences and Special Events. Original choreography by physicians, artists and women affected by breast cancer. Multi-media performances which include sculpture, photography and other art forms. A thirty minute video of four dances is available for preview.

To participate in a Waking Dance project please contact:
Waking Dance
Att. Donald Acevedo
123 Oak Tree Avenue
Warwick, RI 02886
e-mail - dondan10@aol.com
phone - (401) 738-5404

Donald Acevedo
Is a professional ballet dancer, instructor and artistic consultant. He formerly was a member of the National Ballet of Canada, Ater Balletto in Italy, London City Ballet, Ballet Imperial of London and the Dutch National Ballet in Amsterdam. He is also currently a principal dancer with Cadence Dance Project of Rhode Island.