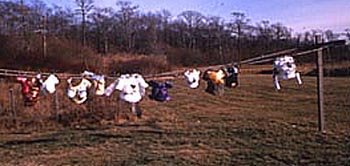 HANGING OUT

withChristiane Corbat
Amazon Series

The Hanging Out workshops are sponsored in part by Yoplait
Hanging Out is a collaborative art project and sculptural installation piece designed for women with a current or past history of breast cancer. The title refers to a group activity of revealing oneself without shame. It also refers to 'hanging out the wash', an ordinary event which brings the crisis of cancer back into normal life perspective. The word Amazon evokes the one-breasted warrior women from Greek mythology.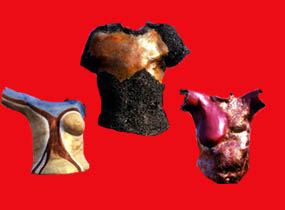 Using a body casting and myth-relating group process, artist Christiane Corbat guides women to reconnect with a sense of their personal empowerment and hope. The resulting sculptural torsos are exhibited in public venues and then taken home.
Based on the concept that the art process allows new perspectives to emerge, each woman in a Hanging Out group is encouraged to reshape the experience of her illness and to imagine her essential self. Then, working with the artist or a facilitator, the women help each other cast their torsos with plaster bandages. Once the casting is complete, the body can be viewed objectively, to be rediscovered during the process of sanding, painting and decorating. This transfigurative art process allows for a traumatic experience to be reworked into a new image of wholeness where the disease is no longer the focus.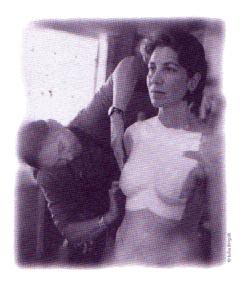 Christiane Corbat has created collaborative portraits of people with devastating illness for the past fifteen years. Her work, including the "Amazon Series", has been exhibited internationally in museums and medical venues and is featured in numerous books and publications on art and healing.

Hanging Out is a project of Waking Dreams & Warrior Women, a non-profit organization of physicians, artists and others who value the relationship of the arts in medicine. Through collaborative arts projects, educational programs and medical research, Waking Dreams & Warrior Women explores the creative process in order to awaken new ways to experience healing within ourselves.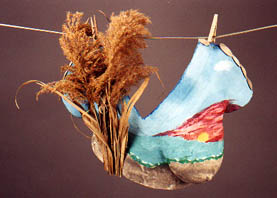 To learn more about Hanging Out, Amazon Series locations, times, and dates, please write or call:
Christiane Corbat/Hanging Out
32 Cole Street
Warren, RI 02885
telephone: (401) 247-2233
fax: (401) 245-1941


If you would like to sponsor a woman/women or participate yourself in Hanging Out please send your: