FACILITATOR WORKSHOPS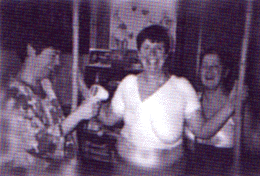 "Hanging Out"
Learn how to run Hanging Out workshops for women with a current or past history of breast cancer.
Explore the concept of art and healing with artist/lecturer Christiane Corbat.
- Discover the transfigurative power of body-casting work under the supervision of the artist in her studio. The small group format ensures each participant receives personalized training and guidance.
- Experience this transformative process by making your own casting.
- Develop the symbolic use of archetypes, myths and dream images for self-expression.
-Learn the importance of intention and how it is focused for this process.
Contribute to an on-going research project of Waking Dreams & Warrior Women studying the effect of the Hanging Out project on the quality of life of the participants.

Facilitator workshops are especially designed for:
Healthcare professionals
Breast Cancer advocates
Artists



WEEKEND WORKSHOPS:

Friday eve 7:30 - I 0:00
Saturday 9:00 - 4:00
Sunday 9:00 - 12:00



Location:

Christiane's Studio
32 Cole Street
Warren, RI (1 5 mins. from Providence)
List of accommodations available.



To learn more about Hanging Out, Facilitator Workshops locations, dates and fees, please write or call:

WAKING DREAMS & WARRIOR WOMEN
Christiane Corbat/Hanging Out
32 Cole Street
Warren, RI 02885
telephone: (401) 247-2233
fax: (401) 245-1941



WAKING DREAMS & WARRIOR WOMEN
92 Governor Bradford Dr.
Barrington, RI 02806
phone 401-245-5449 fax 401-245-2826
e-mail wakingdwwgaol.com